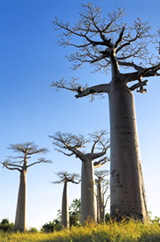 The baobab tree is mostly found throughout the African savanna regions. It can grow up to 25 meters tall and can live for several thousand years. The majestic tree has become the icon of the African landscape.
Baobab is best known as the "Tree of Life" because it can provide food, water, clothing materials and medicine. Botanically it is known as Adansonia digitata, named after the French naturalist Michel Adanson who studied the tree.
Origin of Baobab Oil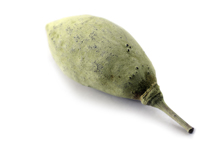 The oval or round shaped baobab fruits have a hard shell covered with soft yellowish-gray fur. Inside its shell, the fruit contains numerous seeds, embedded in a whitish, powdery pulp with a sweet and tangy taste.
Baobab Sariché (Adansonia digitata Seed Oil) is obtained by carefully cold-pressing the dried seeds of baobab.
Oil Properties
Baobab Sariché is easily and quickly absorbed by the skin, leaving no oiliness or greasiness. Due to its vitamin A, D, E and F content, the oil is highly moisturizing and soothing. Vitamins A and F play an important role in the rejuvenation and renewal of skin cells. As for the antioxidant vitamin E, it is known to reduce the signs of aging not only externally but internally as well.
Baobab oil is ideal to help treat dry and damaged skin, as well as for intensive hair care. Its soothing properties are helpful for skin treatment due to the Omega 3, 6 and 9 contained in the oil.
Oil Applications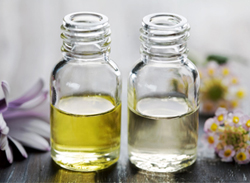 Baobab Sariché does far more than just moisturize the skin and this rich, light oil also helps improve skin elasticity, encourages regeneration of skin cells and does not clog the pores.
Baobab Sariché can be used in creams, lotions, soaps and other skin care and hair care formulations.
Baobab Sariché is known for the following beauty benefits:
Soft and smooth skin
Rapid epidermal absorption
Improvement of skin elasticity
Moisturizing effects for skin and hair
Stimulation of the regeneration of skin cells
Healthy skin due to the action of the essential fatty acids present in the oil